DYNAMIC ONLINE EVENTS at hopefairs.com
Virtual tour of new trending products and collections:
20.000 m2 of online showroom space, 10.000 products from more than 100 Vietnamese manufacturers will be introduced during the VFMW 2021 event on the www.hopefairs.com platform. One stop of furniture sourcing destinations with various categories: Bedroom furniture, Living room, Garden furniture, Kitchen furniture, Upholstery, Interior Fitting, Home décor, Accessories, etc.
Buyers can connect directly with Vietnamese manufacturers through interactive apps built online platform showrooms. Besides, during the VFMW 2021, HAWA will assist buyers to find and connect to a reputable network and export capable manufacturers in Vietnam for each specific sourcing request.
B2B online matching in VFMW will be done with three steps:
Buyers send request for sourcing support via this form: https://bit.ly/3rgaDiZ
Sourcing suitable Vietnamese manufacturers by HOPE sourcing team
Connect Vietnamese manufacturers and buyers for online B2B matching via online platforms: ZOOM, MS Teams
Market intelligence hub:
Series of webinars, live broadcast with in-depth analysis on Vietnam's main and potential export markets: US, UK, Korea, Germany, Canada, Australia.
Series broadcasts of outstanding Vietnamese manufacturers: To be broadcasted daily during the VFMW 2021 event, sharing the stories of Vietnamese manufacturers about their new products, new materials, virtual factory tour, etc.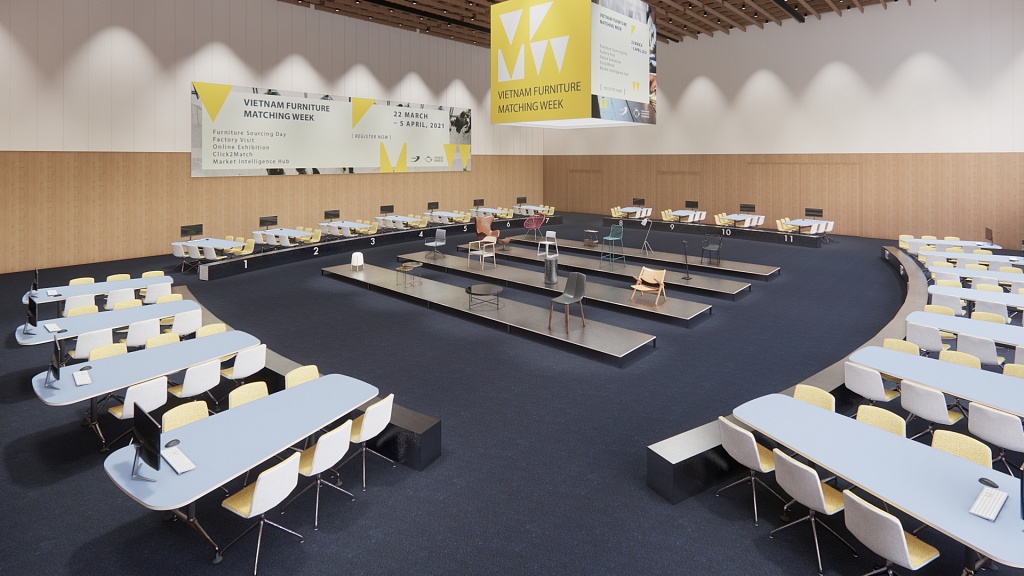 ---
OFFlNE EVENT – FURNITURE SOURCING DAY
To be organized on April 14, 2021 at the White Palace Event and Exhibition Center – 108 Pham Van Dong, Hiep Binh Chanh, Thu Duc District, Vietnam. The event is expected to attract 300 participants who are manufacturers, ROs, sourcing agencies in order to create a connected community between Vietnamese manufacturers and ROs and facilitate long-term partnerships.
Activities at Furniture sourcing day:
B2B Matching between ROs and manufactures
Inspiring pavilion of new trending products and collections
Seminar, conference
Factories visit
The event is organized by the Handicraft and Wood Industry Association of HCMC in cooperation with the Vietnam Trade Promotion Agency (Vietrade), Vietnam Trade Offices, the Swiss Import Promotion Programme (SIPPO), etc., with the support from domestic and international media partners: Furniture Today, Furniture News, Mobelmarkt, etc.
---
For more information: